Knowledge Management Benchmarking
Juran Benchmarking's Knowledge Management benchmarking approach focuses on more than just technology-led, Knowledge Management, Our approach, underpinned by world-leading Knowledge Management expertise, will take you beyond the realm of Knowledge Management to Knowledge Capability and a direct link to the market value of your organisation.
Regardless of sector, size or location, we create deep insights into how you can continuously protect and/or create value, and present them clearly for you.
Competition is shifting to drive the focus from a knowledge economy to a talent economy. Organisations need to focus on their ability to activate networks, to embed, activate, share and develop knowledge. This will see the end of legacy Knowledge Management and the emergence of Knowledge Capability.
In responding to this shift toward knowledge as a resource, is that leaders and managers have traditionally focused on the knowledge and not the worker – the asset and not the talent or capability. Many leaders have missed the fact that the initial transition from manufacturing was the Knowledge Economy, but the new way will see the rise of the talent-economy, based on capability and not the mere existence of knowledge.
The Benchmarking Scope
The scope of the benchmarking program has been determined in partnership with K3-Cubed, utilising award-winning research conducted by Dr. David Griffiths into Knowledge Management and Knowledge Capability. Our program reports on risks associated with your organisation's ability to act quickly when anticipating change, solving problems, making decisions and innovating. We do this by exploring the balance between the existence of your organisation's information and knowledge and your ability to acquire, embed, share, develop and deploy it.
The scope focuses on the integrators between efficiency and effectiveness, and the creation of human, intellectual and social capital value, including:
Acquisition & Storage Capability
Sharing Capability
Deployment Capability
Innovation Capability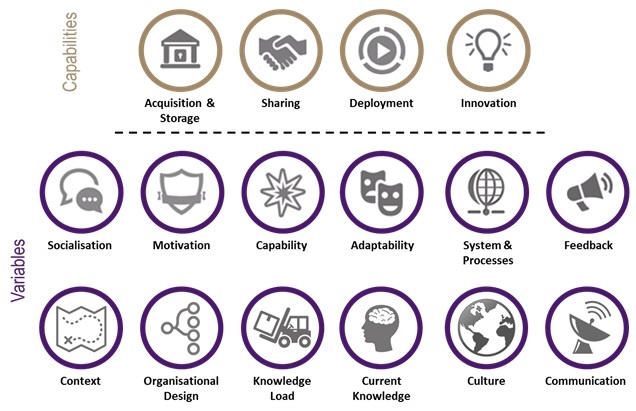 The Knowledge Management Benchmarking Metrics Model
If you would like to learn more about the metrics model and reporting on return on investment in 90 days, then we invite you to download our whitepaper on the top 2 reasons why knowledge management programs fail.
The Solution
Juran Benchmarking is able to benchmark your Knowledge Capability, using an exclusive award-winning, evidence-based model from K3-Cubed Ltd. This model segments your working environment to provide you with deep sense-making – it will show you the discrete gaps in your performance capability that could limit your ability to adapt, to be resilient, in the face of a fast changing world.
We will report on your performance, in terms of capability and identify the gaps in your capabilities that lie between you and achieving world class performance. If you are not assessing your Knowledge Capability, if you don't know how you are performing, then you are at risk of losing market position and value.
For more information on this ground breaking program then download our brochure or contact us at benchmarking@juranbenchmarking.com. To gain more insight into Knowledge Capability visit our partner at www.k3cubed.co.uk.
In partnership with