Executive Leadership
Dr. Brad Wood, Managing Director, Juran Benchmarking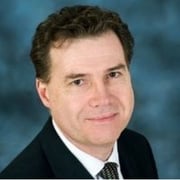 Dr. Brad Wood heads up Juran's benchmarking practice and is widely recognised as a global leader in the field of operational performance benchmarking. For nearly 20 years Brad has worked with organisations, primarily in the Oil and Gas as well as other high risk industries, to help them realise their performance improvement goals. Since 2004 he has been supporting Juran's clients attain superior performance through the innovative application of cutting edge benchmarking methodologies.
In 2011 Brad assumed the position of Executive Vice President at Juran and took over leadership of Juran's Benchmarking Services, responsible for the development and delivery of Juran's benchmarking programs worldwide, ensuring that the company provides quality deliverables that add real value to clients' performance improvement activities and their ability to succeed in the global marketplace.
After completing his PhD, Brad worked as a research scientist and clinician for 10 years before completing his MBA and venturing into the world of consulting. He is widely published in his field, contributed the chapter on "Benchmarking: Defining Best Practices for Market Leadership" in Juran's Quality Handbook 7th Edition, and is regularly invited to be a speaker at international conferences.