Our Approach
The Juran Benchmarking 7–Step Benchmarking Process© provides a tried-and-tested systematic approach for all of our benchmarking programs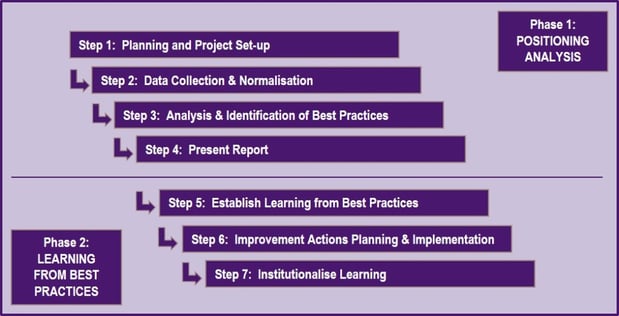 Preparation and Planning
A kickoff meeting is held, at which the purpose, scope, methodology, and schedule for participation is reviewed and agreed upon. It is our participants who ultimately decide which metrics are to be included in the analysis.
Data Collection and Normalisation
A data collection document is completed by all participants. All data is then thoroughly validated and normalised using a variety of methods. Juran Benchmarking analyses the data and prepares a detailed written report of the benchmarking results, including a performance gap analysis for each participant. The comprehensive report typically includes more than 200 key performance indicators examining all aspects of your processing facility's operational performance.
Sharing Best Practices
Following the benchmarking analysis and issuing of the report, Juran Benchmarking hosts a Best Practice Forum, exclusive to the benchmarking participants, whereby companies share their best working practices.
Improvement Action Planning
Juran Benchmarking facilitate Action Planning Workshops for each participant, designed to identify the primary reasons for performance gaps identified in the benchmarking and make initial steps towards improved performance.